Pulse Super Speciality Hospital Ranchi - Ranchi
Tuesday, 25 August 2020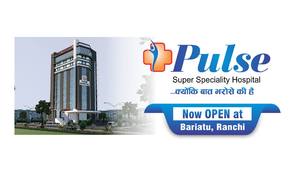 Contacts

Pulse Ranchi

9958199989
Item description
Be it providing the best in medical technology, world class infrastructure or clinical care combined with 24*7 emergency service, we at Pulse are committed to provide affordable health care, delivered with love and care, to you.

Our Team of Doctors are pioneers in their respective field with years of experience and are ready to serve you in all major Super Speciality branches like Cardiology, Cardiac Surgery, Orthopaedics, Neurology, Nephrology, Gynaecology, General Surgery, Endocrinology, Paediatrics, Nephrology etc along with a 24x7 operational Critical Care, Trauma and Emergency services with our expert team of nursing staff, paramedics and technicians.

Our OPD's & IPD's are built in conformity with the best global standards, our Intensive and Critical Care beds come with the latest monitors and ventilators and our Modular OT's are equipped with the best machinery to handle all type of complicated cases.

At Pulse you will instantly feel that this is your extended family. Our excellent team is dedicated to reach and save many lives with commitment, passion and purpose. Your medical needs are placed above everything else. Because for us, every patient matters.